Today I'm sharing an outfit I made for the Knock It Off blog tour hosted by Lulu & Celeste and Sprouting Jube Jube. The mission: Knock Off a look from a designer or rtw.
The challenging part of the tour parameters was finding my inspiration. I hadn't followed designers or Ready To Wear (rtw) companies at all, but this was the perfect push to broaden my view.
Since I didn't even know where to start, I had to work backwards. I knew I wanted to make a red skirt for summer, so I started looking at companies I'd heard people talking about- Anthropologie, Mod Cloth, and Urban Outfitters. I searched for red skirts and pinned the outfits I liked. Success! I found this outfit on Anthropologie that I wanted.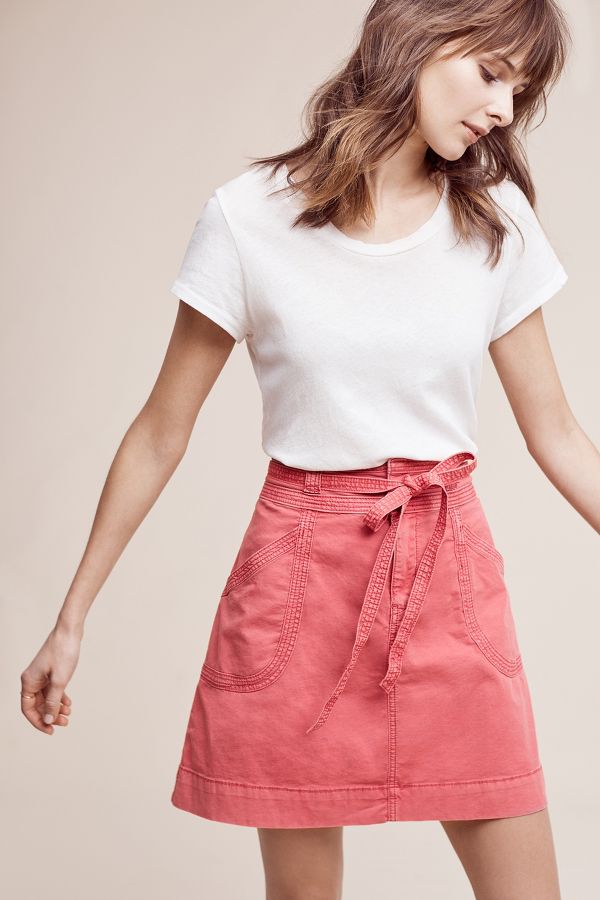 Putting together the Knock Off was super easy from my pattern stash. The Ally Skirt and Onyx Shirt had the right silhouettes and I quickly hashed a plan to hack the Ally to get the look.
I made the Onyx in a size 4 using a cotton woven (an IKEA sheet from their clearance bin). Simple enough since I've made the Onyx before (here).
For the Ally I made a size small again (first Ally here) using a cotton sateen from Joann Fabrics, drafted an angled pocket, added 1.5in in height to the waistband, and added a zip fly and clasp closure.
I'm very pleased with how my outfit came out. It harkens to the inspiration photo and it's my style and color scheme. I'm gettting better and better at hacking the patterns I own to get a look I want. It's a learning process and of course there are goof ups like this one:
I forgot to extend the waistband to account for the zipper fly extension. Whoopsie. I made it work by tappering it a bit.
I was a little short on fabric after drafting my hacks, so I was able to stashbust a little more of my quilting cotton stash for the waistband facing and fly shield.
I'm really happy with my outfit and that I can make myself a look instead of shelling out the $150 it would have taken for the Anthropologie version. Yikes!
My cost: Total: $13   Fabrics $9    Notions $4  Patterns: $0 Stash
If you'd like me to write up a tutorial on my Ally Skirt hack, let me know in the comments.
Now I'd like you to pay a visit the my fellow bloggers to see how they Knock It Off 
Monday, April 24  Lulu & Celeste – Call Ajaire – Paisley Roots – Adventures with Bubba and Bug
Tuesday, April 25  Sprouting JubeJube – mahlicadesigns – Sew and Tell Project
Wednesday, April 26  Lulu & Celeste – SewSophieLynn – Nini and Ash – Little Heart Threads
Thursday, April 27  Sprouting JubeJube – sewingbyti – Inspinration – House of Estrela
Friday, April 28  Lulu & Celeste – Duchess & Hare – Creative Counselor – FAM
As always, thanks for reading today.
You can follow me on instagram, Bloglovin, or by entering your email in the right side bar.